Experts from Sumsub and Pismo offer practical insights on setting rules for transaction monitoring and handling its typical challenges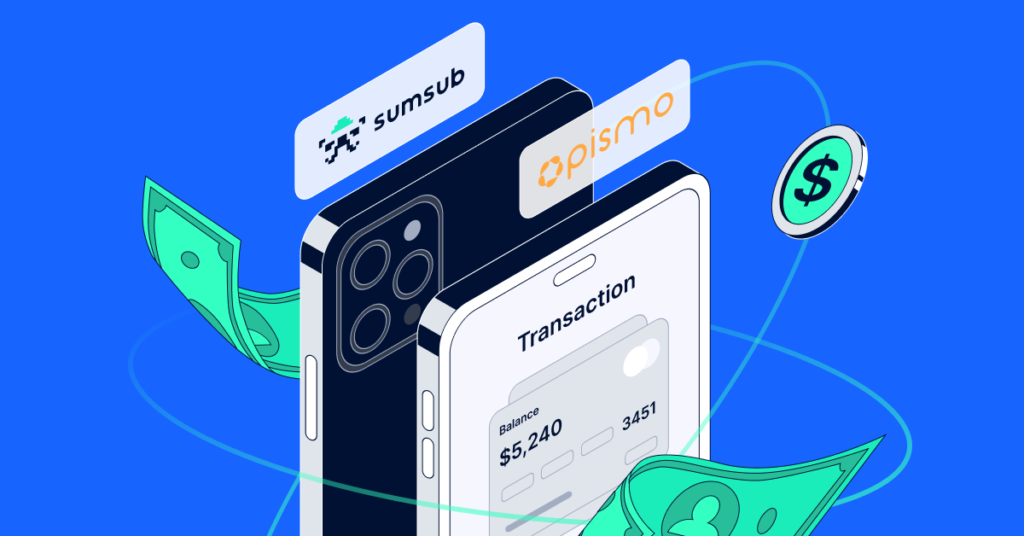 MIAMI – April 11, 2023 – Sumsub, a global tech company that provides customizable KYC, KYB and AML solutions for the whole user journey, today published its Complete Guide to Transaction Monitoring to provide a detailed picture of transaction monitoring as an integral part of the verification system. The guide was prepared by Sumsub's compliance and anti-fraud team in partnership with Pismo, an all-in-one, cloud-native financial services platform covering all core banking and payment processing functionalities.
Transaction monitoring is crucial for companies providing financial services, as it helps them perform risk assessments and detect suspicious activities. This expert guide is intended to show businesses in the fintech, banking, insurance, gambling and e-commerce sectors how to spot transaction fraud, bolster their defenses, ensure full compliance and optimize user conversion rates at the same time.
If businesses don't monitor transactions, they run the risk of money laundering, fraud and other crimes occurring on their platforms. According to the U.S. Federal Trade Commission, $8.8 billion was lost on fraud last year, and the United Nations reports that money laundering losses mount up to $1.6 trillion annually. That's why governments have been toughening their AML regulations. If companies fail to comply, they face heavy fines, reputational damage and even license revocation. For example, in December 2022, Danske Bank was fined over $2 billion for inadequate transaction monitoring capabilities, deficient AML systems and high-risk customers. In the guide, you'll find a detailed description of the AML legal framework for transaction monitoring in the U.K., U.S. and EU along with respective recordkeeping requirements.
Transaction monitoring is an ongoing process used to spot dubious transfers and transactions made in digital or fiat currencies, and to detect other suspicious customer activities. As a result, it helps businesses stay protected from scams and avoid potentially huge money loss. While transaction monitoring is mandatory for regulated businesses, it is beneficial for other businesses as well if they wish to have an additional layer of protection against financial fraud.
Every industry benefits from transaction monitoring in different ways:
~ A gambling or iGaming service can support responsible gaming by easily detecting if a customer is spending more money than declared in their income statement, and a service can curb arbitrage betting by detecting multi-accounters;
~ Banks can automatically detect signs of suspicious activity, such as income drastically higher than in the source of funds statement;
~ In e-commerce, purchases over AML thresholds and unusual spending patterns should automatically raise alarm bells and be prevented;
~ For insurance companies, illegitimate claims and fraud patterns can be detected.
How to build transaction monitoring rules depends on the industry, customer type and many other factors. In the guide, you'll find recommendations on how to do it, as well as the essentials of any transaction monitoring system and the specific risks associated with insufficient transaction monitoring. Additionally, Sumsub experts have prepared a checklist to guide companies in choosing the best transaction monitoring solution.
"Nowadays it's getting harder for regulated businesses to survive and grow in conditions of economic recession: they need to keep pass rates high, attract new users and stay protected from fraud—all at the same time. The perfect tool to help businesses keep up with their ambitious plans and avoid scams on the way to growth is transaction monitoring. It is a new must in verification that should come together with KYC and other AML checks. By combining user, business and transaction verification in a single flow, you get a complete picture of user profiles and can intercept even the most sophisticated fraud attack vectors and patterns, and that provides extra insurance that fraud risks can be reduced,"

said Vyacheslav Zholudev, co-founder and CTO of Sumsub.
To learn more about transaction monitoring and download the guide for free, please visit: https://sumsub.com/guides-reports/complete-guide-to-transaction-monitoring/.
About Sumsub
Sumsub is one verification platform to secure the whole user journey. With Sumsub's customizable KYC, KYB, AML and transaction monitoring solutions, you can orchestrate your verification process, welcome more customers worldwide, speed up onboarding, reduce costs and steer clear of digital fraud.
Sumsub has over 2,000 clients across the fintech, crypto, transportation, trading and gaming industries including Mercuryo, Bybit, Huobi, Unlimint, DiDi, Poppy and TransferGo.
About Pismo
Pismo is a technology company providing an all-in-one processing platform for banking, payments, and financial markets infrastructure. Large banks, marketplaces, and fintechs already use our cloud-native microservices platform. Pismo clients are launching next-generation solutions while migrating their legacy systems onto the most advanced platform in the market. Pismo cloud-based platform empowers teams to build fast and companies to launch rapidly, scaling as they grow to have a broader audience while keeping high security and availability standards.