Sumsub, the one verification platform to secure the whole user journey, has won the "Technology Partner of the Year" category in partnership with Kriptomat, an international cryptocurrency exchange.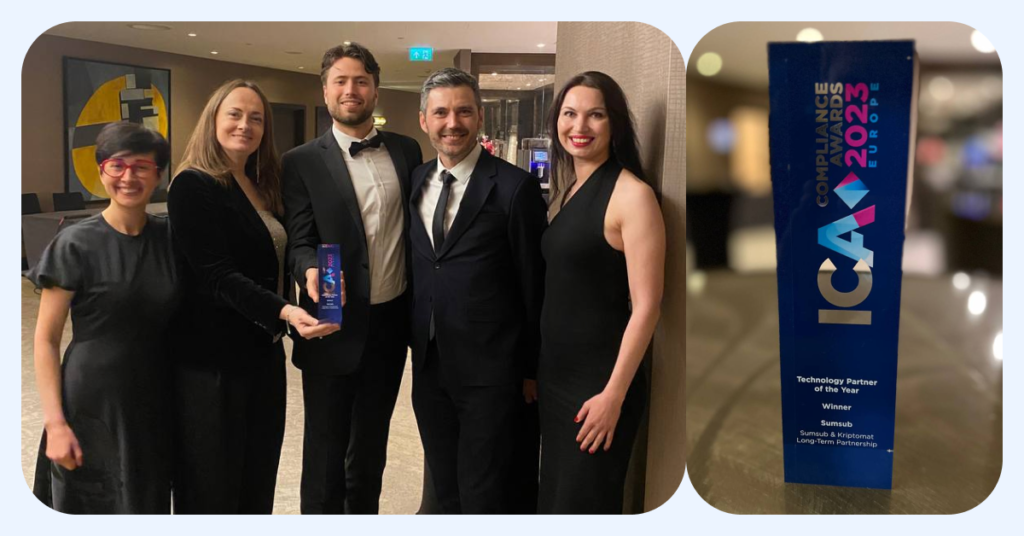 London, April 28, 2023 — Sumsub today announced it has been chosen winner in the "Technology Partner of the Year" category at the 2023 ICA Compliance Awards Europe. The company got recognition for its outstanding work ensuring regulatory compliance and fraud prevention for its long-term partner, Kriptomat.
Kriptomat is a fully licensed European cryptocurrency platform where anyone can buy, store, sell, and use cryptocurrencies. The company is fiercely committed to security and compliance with government regulators. 
Since 2018, Kriptomat has partnered with Sumsub, which provides a single platform for crypto compliance, fraud protection, automation, and a smooth and people-friendly verification flow—all while ensuring a streamlined user experience and excellent pass rates. Together with Sumsub, Kriptomat has built industry-leading fraud defences while protecting the personal data of its 500K+ users across 57 countries. Sumsub also helps Kriptomat keep up with evolving crypto regulations with backup from an experienced in-house team of compliance experts.
"We are proud to be recognized as a leader in compliance and customer protection. The use of innovative and reliable technologies play an important role in our AML/CFT program. It's amazing to see how much of a difference Kriptomat is making in the industry to make customers more safe. Winning awards like these helps us on our company goal of becoming a regulatory white knight in Europe,"

said Dejan Davidovic, co-founder and Chief Operating and Integrity Officer at Kriptomat.
Having won the ICA Awards 2023 validates Sumsub's hard work and commitment to compliance practices, benchmarking the company's achievements with peers across the UK and Europe.
The ICA Compliance Awards are the UK's only awards recognising teams and individuals across the financial crime prevention and regulatory compliance community. Building on their tremendous success in 2022, the Awards are back by popular demand, featuring 19 categories designed to recognise the initiatives and achievements of the compliance community over the past 12-18 months. The categories are split across four key themes, including celebrating teams, recognising individuals, praising collaboration, and showcasing innovation. The award entries were reviewed and assessed by a judging panel comprising senior compliance and financial crime prevention leaders who were looking for outstanding achievements, innovation, collaboration, and excellence across individual submissions, team projects and business initiatives.
Winners for the ICA Compliance Awards 2023 were announced during a private awards ceremony at Hilton Bankside, London on 27 April 2023. Sumsub representatives attended the ceremony with colleagues from Kriptomat. This award is the result of joint efforts of both partners aiming to achieve excellence in the products and service they offer their customers.
"We are honoured to be named "Technology Partner of the Year" by the International Compliance Association. Winning the ICA awards is a prestigious recognition brought by top international compliance experts. We are thankful for this moment of celebrating our shared success with Kriptomat, our long-term partner. Sumsub's tech and compliance teams will continue their hard work to exceed expectations and bring the best results to our global clients, partners and the whole fintech compliance community,"

commented Andrew Sever, co-founder and CEO of Sumsub.
The full list of winners can be found at https://icacomplianceawards.int-comp.org/2023-winners
About Sumsub
Sumsub is the one verification platform that secures every step of the user journey. With Sumsub's customizable KYC, KYB, AML, transaction monitoring and fraud prevention solutions, you can orchestrate your verification process, welcome more customers worldwide, meet compliance requirements, reduce costs and protect your business.

Sumsub achieves the highest conversion rates in the industry—91.64% in the US, 95.86% in the UK, and 90.98% in Brazil—while verifying users in less than 50 seconds on average.

Sumsub's methodology follows FATF recommendations, the international standard for AML/CTF rules and local regulatory requirements (FINMA, FCA, CySEC, MAS, BaFin). As the first regulated compliance-as-a-service provider, Sumsub has a team of compliance experts ready to consult on regulatory specifics worldwide.

With over 2,000 clients across the fintech, crypto, transportation, trading, e-commerce and gaming industries, Sumsub partners with the likes of Mercuryo, Bybit, Huobi, Unlimint, DiDi, Poppy and TransferGo.
About Kriptomat
Founded in 2018, Kriptomat is dedicated to making the benefits of cryptocurrency ownership and investing available to everyday people in Europe and around the world. The Kriptomat platform's "Crypto But Simple" approach transfers the complexity of blockchain technology from users to the company's product and engineering teams. Customers consistently rate Kriptomat the industry's simplest crypto platform by a wide margin. This same approach applies to security, regulatory compliance, and all other aspects of the customer relationship, as expressed in the motto "Hard on us, Easy on you." Based in Tallinn, Estonia, Kriptomat is Europe's leading crypto platform when it comes to licenses and certification. The platform has made crypto ownership and investing accessible to hundreds of thousands of users, making it one of the world's fastest-growing platforms for buying, selling, swapping, earning, sharing, and investing in cryptocurrency.
About the International Compliance Association
The International Compliance Association (ICA) is the leading professional body for the global regulatory and financial crime compliance community. ICA's mission is to inspire and enable this community to conduct the right business in the right way though enhancing knowledge, skills and behaviour. Working with regulated sectors including financial services, energy, betting and gaming and telecoms as well as regulators and regional bodies, ICA is committed to helping raise standards of conduct and integrity through education.
Since 2001, ICA has trained over 160,000 professionals either through their internationally recognised portfolio of professional qualifications (awarded in association with Alliance Manchester Business School, the University of Manchester) or through in-company training. ICA has more than 17,000 members in over 157 countries.