Sumsub, a global all-in-one verification platform, entered the "Technology Partner of the Year" nomination in partnership with Kriptomat, an international cryptocurrency exchange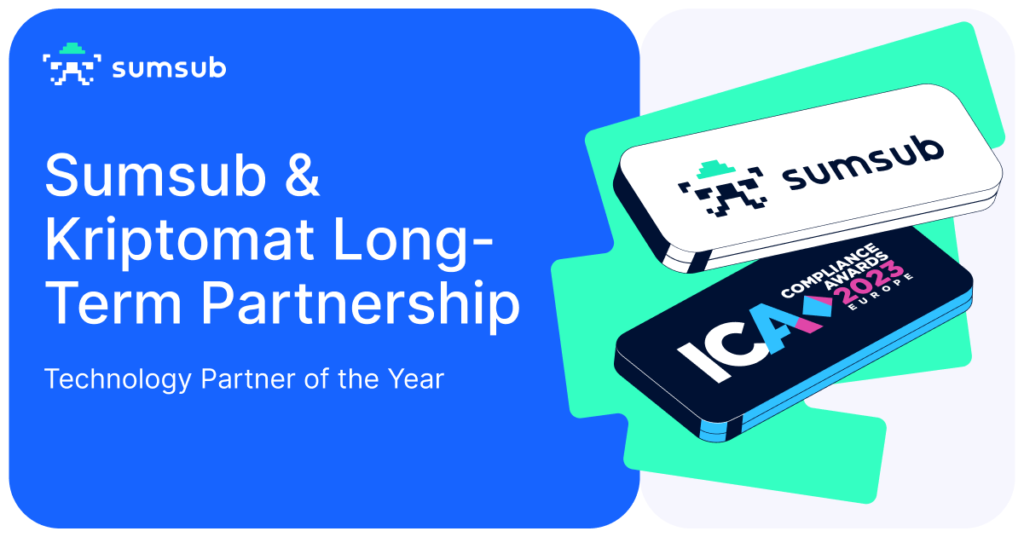 London, February 22, 2023 — Recognized for its outstanding work ensuring regulatory compliance and fraud prevention for Kriptomat, Sumsub has been shortlisted in the Technology Partner of the Year category at the 2023 ICA Compliance Awards.
Kriptomat is a licensed international cryptocurrency exchange where anyone can buy, store, sell, and use cryptocurrencies. The company is fiercely committed to security and compliance with government regulators. 
Since 2018, Kriptomat has partnered with Sumsub, which provides a single platform for crypto compliance, fraud protection, automation, and a smooth and people-friendly verification flow—all while ensuring a streamlined user experience and excellent pass rates. Together with Sumsub, Kriptomat has built industry-leading fraud defences while protecting the personal data of its 500K+ users across 57 countries. Sumsub also helps Kriptomat keep up with evolving crypto regulations with backup from an experienced in-house team of compliance experts.
Being shortlisted for an ICA Awards validates Sumsub's hard work and commitment to compliance practices, benchmarking the company's achievements with peers across the UK and Europe.
"Being shortlisted for the ICA Awards in the "Technology Partner of the Year" category speaks volumes of the compliance work Sumsub is doing for our global customers. We are deeply grateful to Kriptomat and all our clients and partners for their trust. It's an honour to be among the strongest players in the AML compliance sector and share our success stories with the RegTech community",

said Andrew Sever, co-founder and CEO of Sumsub.
The award entries were reviewed and assessed by a judging panel comprising senior compliance and financial crime prevention leaders who were looking for outstanding achievements, innovation, collaboration, and excellence across individual submissions, team projects and business initiatives.
Scheduled to take place on 27 April 2023, 6:30PM (BST) at the Hilton London Bankside, UK, the ICA Compliance Awards are the UK's only awards recognising teams and individuals across the financial crime prevention and regulatory compliance community. Building on their tremendous success in 2022, the Awards are back by popular demand, featuring 19 categories designed to recognise the initiatives and achievements of the compliance community over the past 12-18 months. The categories are split across four key themes, including celebrating teams, recognising individuals, praising collaboration, and showcasing innovation.
"We would like to congratulate Sumsub and Kriptomat partnership on being nominated in the category of  'Technology Partner of the Year' ahead of ICA Compliance Awards. We are looking forward to welcoming them to the ceremony in April, to join us in celebrating and recognising excellence in financial crime prevention and compliance. The industry professionals, businesses and teams who work in this important field all have a vital role to play in keeping our societies safe and they deserve visibility and recognition for their outstanding work, day in and day out. As part of the Awards, we hope to provide a platform to reward their achievements, network with their peers, share knowledge and exchange best practice in innovation, collaboration, technology adoption, team and individual performance",

comments Bill Howarth, President at ICA.
The full list of nominees for the ICA Compliance Awards 2023 can be found at https://icacomplianceawards.int-comp.org/2023-finalists/ 
Winners will be announced during a private awards ceremony at Hilton Bankside, London on 27 April 2023.
About the International Compliance Association
The International Compliance Association (ICA) is the leading professional body for the global regulatory and financial crime compliance community. ICA's mission is to inspire and enable this community to conduct the right business in the right way though enhancing knowledge, skills and behaviour. Working with regulated sectors including financial services, energy, betting and gaming and telecoms as well as regulators and regional bodies, ICA is committed to helping raise standards of conduct and integrity through education.
Since 2001, ICA has trained over 160,000 professionals either through their internationally recognised portfolio of professional qualifications (awarded in association with Alliance Manchester Business School, the University of Manchester) or through in-company training. ICA has more than 17,000 members in over 157 countries.