With customisable KYC, AML, KYB and transaction monitoring solutions offered by Sumsub, Pismo speeds up customer onboarding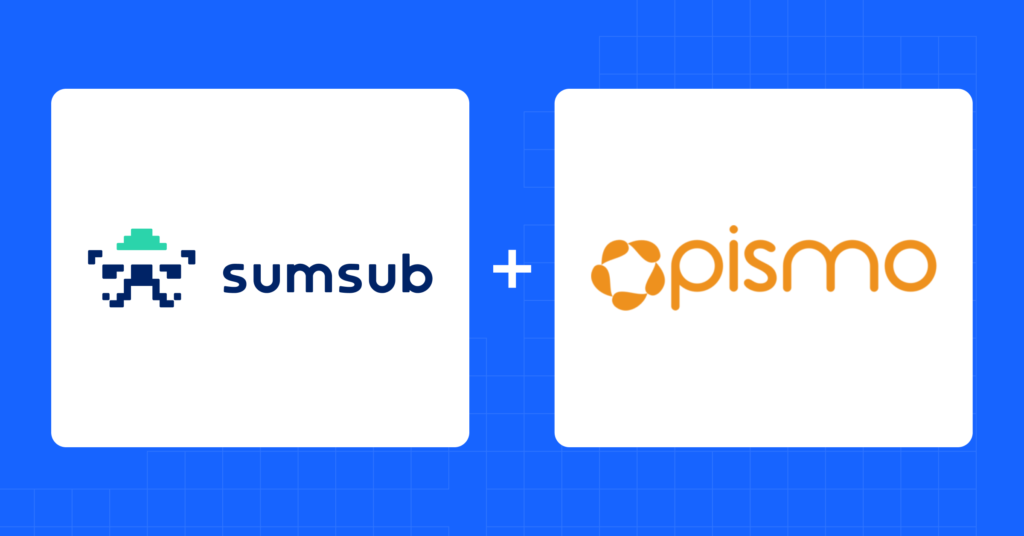 São Paulo and Miami, 24 January 2023 – Managing compliance risks can feel intimidating, especially because identity crime and fraud attempts jumped by 36% in 2021 relative to 2020, according to the Identity Theft Resource Center. As global regulations and accessibility increase, so do compliance risks. To ensure secure operations and offer a swift onboarding experience for its global users, Pismo, one of the fastest-growing banking and payments infrastructure providers, has partnered with Sumsub, an all-in-one verification platform.
Pismo is an all-in-one, cloud-native financial services platform covering all core banking and payment processing functionalities. Pismo provides next-generation technology to help banks, fintechs, and non-financial institutions offer best-in-class financial products for their global customers.
"Pismo's platform processes almost 70 million accounts and 2.2 billion transactions per year. Only a highly robust solution with advanced AI and machine learning technologies like Sumsub is capable of managing identities and preventing fraud at the speed that we require. This partnership contributes to the ever-increasing security level of our platform, increasing its efficiency and positively impacting the quality service we deliver our clients,"

says Vishal Dalal, CEO (North America, EMEA, and APAC) at Pismo.
Sumsub is a leading KYC/KYB/KYT and AML compliance provider with over 2,000 global clients across the fintech, crypto, shared mobility, trading and gaming industries. Sumsub helps businesses worldwide efficiently onboard users and effectively fight fraud, preventing more than 50 thousand fraud attempts each month. The company aspires to make the fintech world safer for everyone with AI-powered transaction monitoring and business verification solutions.
"We are happy to offer our all-in-one verification platform to global financial infrastructure providers like Pismo, allowing banking and payments to impact people's lives positively. With Sumsub's KYC, KYB, transaction monitoring and AML solutions, it's easier for businesses to expand to international markets and increase their customer base while staying fully compliant with regulations and securing strong anti-fraud protection,"

adds Andrew Sever, co-founder and CEO of Sumsub.
Founded in 2016 in Brazil, Pismo has expanded its operations globally. With offices in São Paulo, Bristol (UK), Austin (USA), Singapore and Bangalore (India), and more than 450 employees, Pismo manages over 68 million accounts, processing US$ 195 billion in annual transactions.
About Pismo
Pismo is a technology company providing an all-in-one processing platform for banking, payments, and financial markets infrastructure. Large banks, marketplaces, and fintechs already use our cloud-native microservices platform. Pismo clients are launching next-generation solutions while migrating their legacy systems onto the most advanced platform in the market. Pismo cloud-based platform empowers teams to build fast and companies to launch rapidly, scaling as they grow to have a broader audience while keeping high security and availability standards.
About Sumsub
Sumsub is an all-in-one verification platform that secures every step of the customer journey. With Sumsub's customisable KYC, KYB, KYT, and AML solutions, you can orchestrate your verification process, welcome more customers worldwide, speed up onboarding, reduce costs and steer clear of digital fraud.
Sumsub achieves the highest conversion rates in the industry—91.64% in the US, 95.86% in the UK, and 90.98% in Brazil—while verifying users in less than 50 seconds on average.
Sumsub's methodology follows FATF recommendations, the international standard for AML/CTF rules and local regulatory requirements (FINMA, FCA, CySEC, MAS, BaFin). As the first regulated compliance-as-a-service provider, Sumsub has a team of compliance experts ready to consult on regulatory specifics worldwide.
With over 2,000 clients across the fintech, crypto, transportation, trading and gaming industries, Sumsub partners with the likes of Mercuryo, Bybit, Huobi, Unlimint, DiDi, Poppy and TransferGo.