B2Broker is a worldwide brand with a strong B2B reputation, providing technology and liquidity for forex brokers, crypto exchanges, and other financial services firms. The company offers crypto/forex/CFD liquidity, crypto/forex broker turnkey solutions, crypto payment processing (B2BinPay), MT4/5 whitelabel solutions, B2Core (Trader's Room), B2Trader (matching engine), and liquidity on over 800 trading instruments across the entire spectrum of assets.
B2Broker, based in Dubai, has ten offices in eight locations spanning Europe, Asia, the Middle East, and North Africa. B2Broker has seven licenses, including FCA AEMI, СySec, and FSA, allowing it to serve clients in more than 50 countries and provide forex liquidity distribution as well as a variety of additional services in crypto and Securities. The company has built a massive portfolio of well-known global financial services clients to expand corporate representation and exposure worldwide.
The Challenge
Trading is one of the most heavily regulated industries in the world. The rules constantly change, so staying up-to-date with all the latest laws and sanctions is the only way to stay in business.
Building verification flows for trading clients can also be a complicated task. Unless these clients organize a smooth verification process, they're bound to face high drop-off rates. At the same time, they must meet compliance requirements and perform proper KYC/AML verification. It can be a tough balance to achieve, especially for trading platforms.
Why Sumsub?
B2Broker and Sumsub have developed a joint solution—a CRM system B2Core with integrated payment components, trading platforms, and security modules with full client verification, including liveness, video interviews, and ID checks. This results in a seamless customer journey on all platforms (desktop, mobile, etc.). The solution has already been successfully implemented and well received by customers.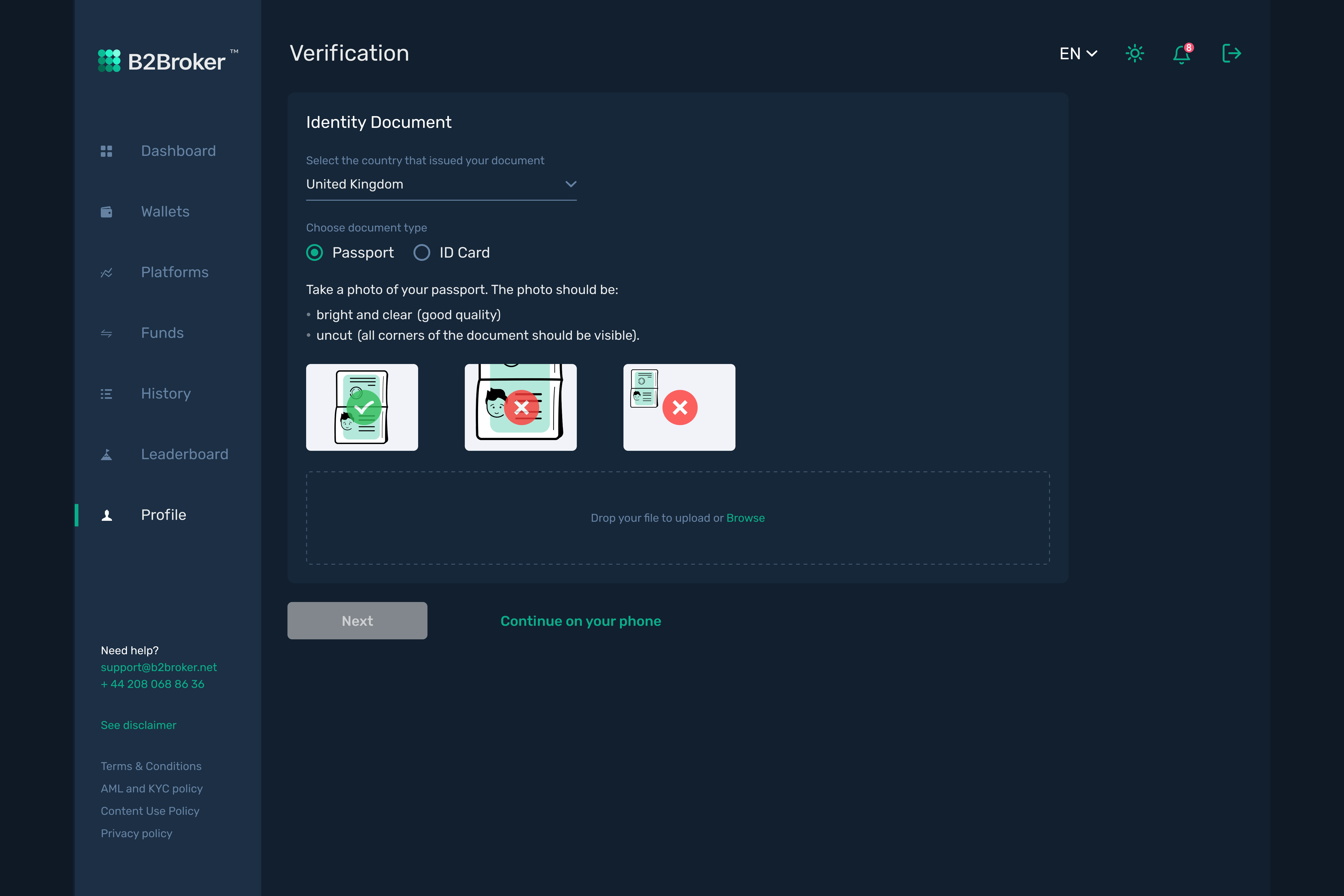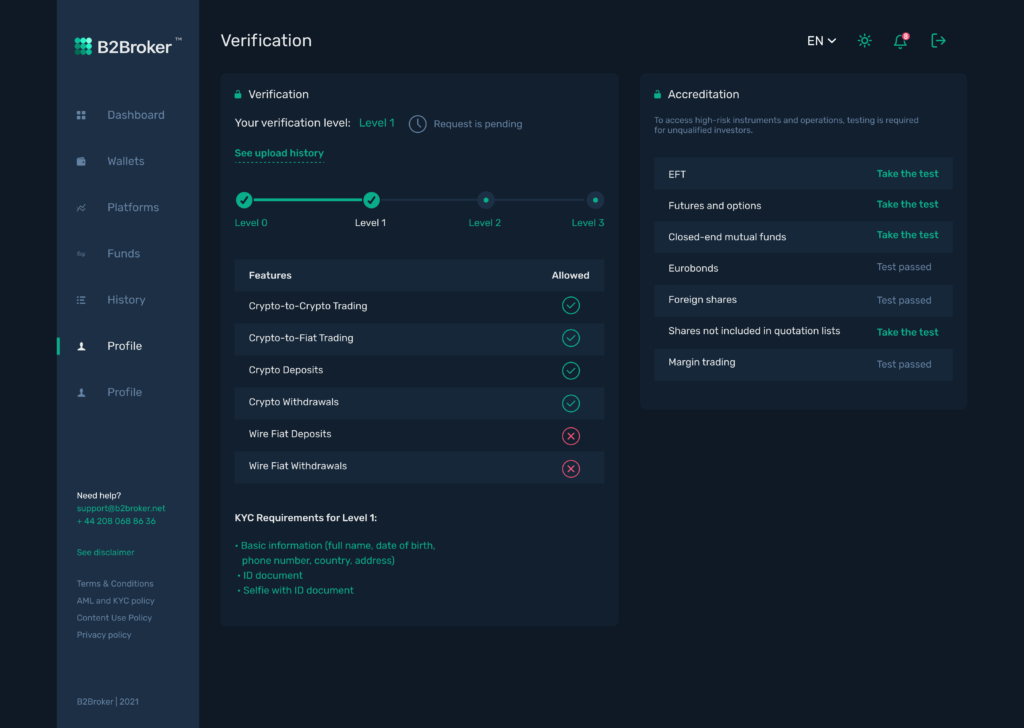 The Solution
Sumsub and B2Broker's joint solution ensures that customers have a smooth trading experience while complying with international regulatory demands.
Currently, the solution utilizes the following checks from Sumsub:
1. KYC/AML checks, including ID Verification, Liveness, and Face Match, Questionnaires, Corporate AML Screening: International Sanctions, Watchlists, and Adverse Media, and Ongoing AML Monitoring;
2. KYB checks to verify businesses that B2Broker works with;
3. Video Identification to nail fraudsters and onboard honest users in 3-5 minutes;
4.Crypto Transaction Monitoring to ensure that the sources of commercial crypto transactions are legitimate and free of money laundering.
Implementation
At first, B2Broker integrated Sumsub on an S2S basis, which means the company kept its own front-end, uploaded documents to Sumsub, and got them approved or rejected. Later, B2Broker shifted to Sumsub's SDK model, as they found it much more convenient. Now the client can configure everything from scratch within the B2Broker admin panel without involving developers.
The whole setup process takes clients no longer than 7 minutes.
If a customer's documents get rejected, the reasons are described in detail, making the process very clear and convenient. Once verification is over, the customer can deposit their assets and use the B2Core platform in its entirety.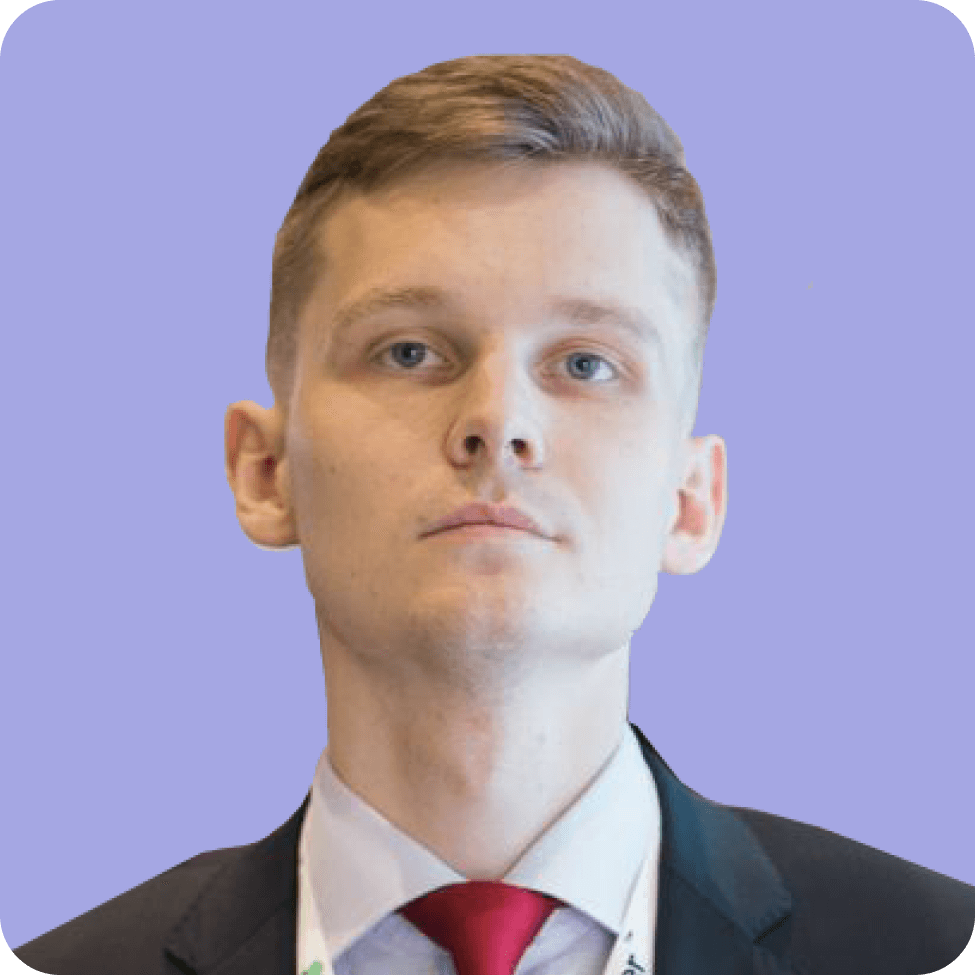 Ivan Navodny
CPO at B2Broker
This partnership brings unique value to fintech businesses. By providing this turnkey solution, we make it possible to automatically verify both individuals and corporate clients through desktop and mobile, all under one roof.
The Results
As a result of this partnership:
B2Broker onboarded 20+ new businesses with 100k+ end-users;
Checked 10.000+ documents with a median verification time of 2-3 minutes (compared to manual verification taking businesses 100x more time);
Optimized the flow and switched to a single vendor for both KYT and KYB.
Future plans
B2Broker and Sumsub's joint solution has been a success so far, but the companies are already developing a roadmap to include new features like KYT for bank transfers.