Tempo France has partnered with Sumsub to stay fully compliant with regulations and offer its global customers a seamless onboarding experience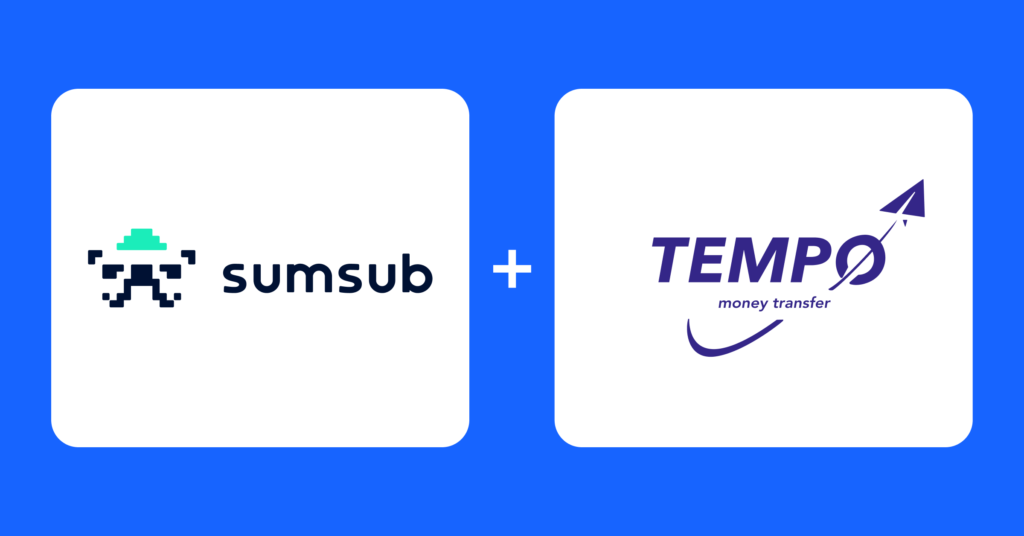 London, 15 December, 2022 – Tempo France, a Paris-based money transfer company, has partnered up with Sumsub, a global all-in-one verification platform to effectively verify users, secure customer data processing and comply with the latest KYC/AML regulations.
With transactions getting faster and growing in number, as well as the growth of blockchain, the importance of KYC/AML will further increase. Thanks to Sumsub, the AML compliance tasks required by French regulator ACPR (Autorité de contrôle prudentiel et de résolution, supported by the Banque de France), have been successfully met by Tempo.
This partnership also provides Tempo with a full range of KYC services, including automatic and uninterrupted user data exchange that determines suspicious activity and client trustworthiness with the highest degree of accuracy. As a result, money transfers are kept safe from money laundering and fraud.
Both Tempo and Sumsub believe more companies should join forces in the development of a more transparent and efficient fintech market, where customers are as protected from fraud as possible. Plus, the security and KYC/AML compliance challenges of the future will require more in-depth, collaborative approaches.
"Tempo France is committed to using the latest technology to improve the efficiency, transparency and security of money transfers. At the same time, we have a license issued by the Bank of France. This imposes strict compliance obligations. And that is where KYC plays a great role and is also why the joint project with Sumsub is so important for us. It gives access to the most advanced customer data processing solutions and minimizes the risks of fraud and money laundering through the system",

says Alla Zhedik, CEO of Tempo France.
"We are glad to offer our all-in-one verification platform to global digital payments providers like Tempo, making money transfers more accessible to people worldwide. With Sumsub's KYC, KYB, transaction monitoring and AML solutions, it's easier for businesses to expand to international markets and increase their client base while staying fully compliant with regulations and ensuring bulletproof fraud protection",

adds Andrew Sever, Co-Founder and CEO of Sumsub.
About Tempo France
Tempo France has been operating in the money transfer market for over 14 years. The system has actively been using more than 100 modern payment methods in 100 countries of the world.
Tempo and its strategic partner, Advanced Payment Solutions, foresee a 2023 joint turnover figure of $1.5 billion, up from $300 million expected this year.
About Sumsub
Sumsub is an all-in-one verification platform that secures every step of the customer journey. With Sumsub's customizable KYC, KYB, KYT, and AML solutions, you can orchestrate your verification process, welcome more customers worldwide, speed up onboarding, reduce costs and steer clear of digital fraud.

Sumsub achieves the highest conversion rates in the industry—91.64% in the US, 95.86% in the UK, and 90.98% in Brazil—while verifying users in less than 50 seconds on average.

Sumsub's methodology follows FATF recommendations, the international standard for AML/CTF rules and local regulatory requirements (FINMA, FCA, CySEC, MAS, BaFin). As the first regulated compliance-as-a-service provider, Sumsub has a team of legal experts ready to consult on regulatory specifics worldwide.
With over 2,000 clients across the fintech, crypto, transportation, trading and gaming industries, Sumsub partners with the likes of Mercuryo, Bybit, Huobi, Unlimint, DiDi, Poppy and TransferGo.