Sumsub, a global identity orchestration platform, is recognized as a Top Risk Management Software by Software Advice, a Gartner company.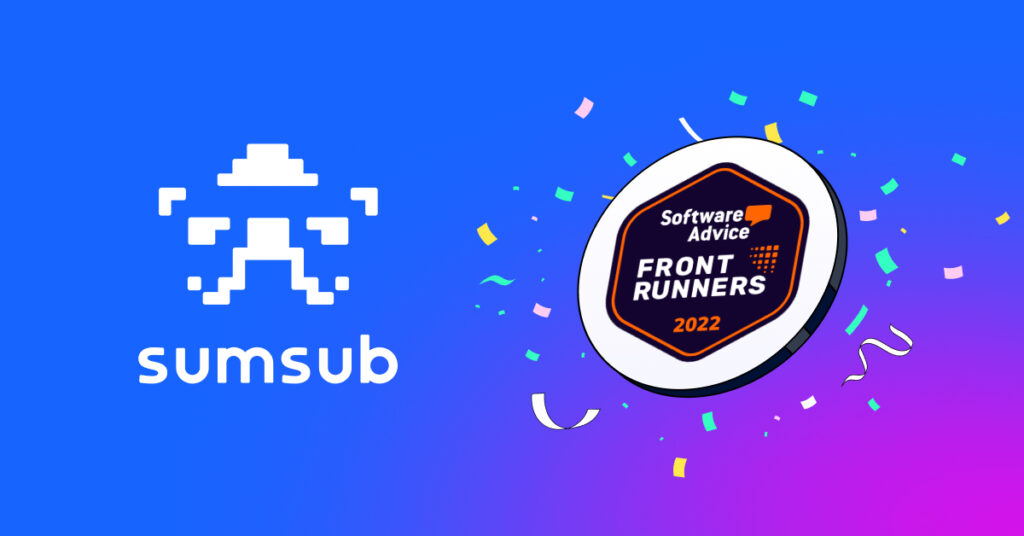 London, August 19, 2022 — Sumsub has been named a FrontRunner in Top Risk Management Software by Software Advice in its 2022 FrontRunners report. Software Advice is a leading online company that helps businesses navigate their software buying journey. Sumsub KYC/AML Platform has earned an overall rating of 4.7 (out of 5).
"The high score achieved is a result of our team's non-stop product enhancement, giving our global clients the most modern, easy-to-use platform for identity verification. Big thanks to our customers for their support and all the honest reviews that have come in worldwide from Argentina to Indonesia",

– says Vyacheslav Zholudev, Co-founder and CTO of Sumsub
The FrontRunners Report evaluates verified end-user reviews and product data, positioning the top-scoring products based on their usability and customer satisfaction ratings. (You can learn more about the methodology here). The report is published by Software Advice, a leading online service for businesses navigating the software selection process.​​ The 2022 FrontRunners guide for Top Risk Management Software is available at this link: https://www.softwareadvice.com/risk-management/#frontrunners
Here's what global clients shared about Sumsub on the Software Advice platform:
"The user interface is intuitive and provides good flexibility in the way of configurations. The platform provides integration capabilities via its modern REST protocol. The platform offers a flexible workflow (control of flow) needed during the KYC processing."

– Amit from the US, works for Information Technology & Services company, April 2022
"From a developer's point of view, it was important for me to be able to configure, integrate and test the overall process in a test environment. Luckily Sumsub supports that and when we were ready with our SaaS deploying and connecting Sumsub to production was really a piece of cake. Identity verification, liveness check and fraud check are the most important features for us as customers."

– Gergana from Bulgaria, works for Computer Software company, January 2022
About Sumsub
Sumsub is an international tech company providing an all-in-one verification platform for detecting fraud and ensuring compliance with KYC requirements worldwide, including identity verification, AML screening and ongoing monitoring. With expertise in more than 220 countries and territories, Sumsub is a proven leader in global compliance.
Sumsub achieves the highest conversion rates in the industry—91.64% in the US, 95.86% in the UK, and 90.98% in Brazil—while verifying users in less than 50 seconds on average. Its AI-driven anti-fraud tools make user onboarding fast, secure, and transparent, helping businesses scale to international markets with ease.
With over 2,000 clients across the fintech, crypto, transportation, trading and gaming industries, Sumsub has partnered with the likes of Binance, Mercuryo, Bybit, Huobi, Moonpay, Unlimint, DiDi, Poppy and Transfergo. The company's methodology follows FATF recommendations, the international standard for AML/CTF rules and local regulatory requirements (FINMA, FCA, CySEC, MAS).
About Software Advice
Software Advice is the leading online service for businesses of all sizes navigating the software selection process, providing free, personalized software recommendations that meet their business needs. Software Advice features objective research by industry experts and reviews from validated users, saving buyers time and resources. Software Advice is a Gartner company. For more information, visit https://www.softwareadvice.com/
Disclaimer:
The FrontRunners badge is a trademark and service mark of Gartner, Inc. and/or its affiliates and is used herein with permission. All rights reserved. FrontRunners constitute the subjective opinions of individual end-user reviews, ratings, and data applied against a documented methodology; they neither represent the views of nor constitute an endorsement by, Software Advice or its affiliates.