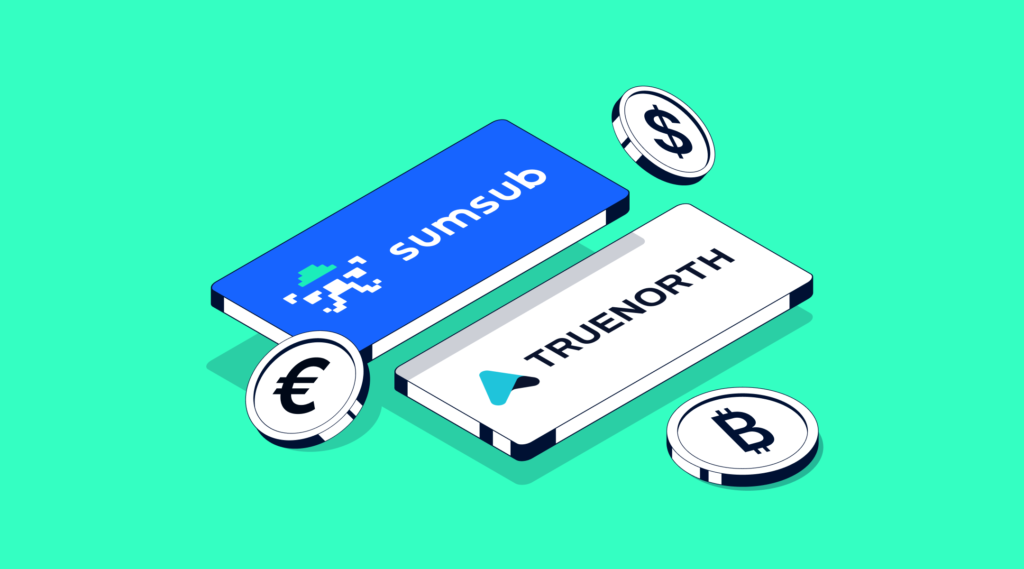 Miami, 13 March, 2023 – Sumsub, a global all-in-one verification platform, has teamed up with TrueNorth, a leading fintech software development company, to help banks in the US and beyond expand to global markets and digitize their services.
Sumsub is a proven leader in regulatory compliance for the fintech industry. Sumsub's platform lets businesses orchestrate the verification process, welcome more users worldwide, speed up onboarding, and stop digital fraud with customizable KYC, KYB, KYT, and AML solutions.
As highly-recognized fintech software developers, TrueNorth offers proven architectural frameworks to accelerate the build of customized solutions. From strategic planning to product launch, TrueNorth engineers modern customer experiences to suit their clients' unique frontend, core and back-end requirements.
TrueNorth and Sumsub are committed to providing banks, fintech platforms, payment providers, and neobanks in the US and abroad with cutting-edge digital solutions that meet regulatory requirements, improve operational efficiency, and increase growth.
"We are glad to join forces with TrueNorth in our common mission of bringing digital transformation to the financial industry. Sumsub's advanced KYC, KYB and transaction monitoring solutions will assist businesses in expanding internationally while complying with regulations. TrueNorth, meanwhile,  will develop enhanced fintech products and solutions for companies ready for digitalized global growth",

comments Andrew Sever, co-founder and CEO of Sumsub.
"We are excited to partner with Sumsub to further strengthen our ecosystem with top-notch verification, anti-money laundering and transaction monitoring tools. This partnership allows us to continue providing our clients in financial services with secure, reliable and sustainable solutions at scale",

says Alex Gonikman, CEO and co-founder of TrueNorth.
About Sumsub
Sumsub is an all-in-one verification platform that secures every step of the customer journey. With Sumsub's customizable KYC, KYB, KYT, and AML solutions, you can orchestrate your verification process, welcome more customers worldwide, speed up onboarding, reduce costs and steer clear of digital fraud.
Sumsub achieves the highest conversion rates in the industry—91.64% in the US, 95.86% in the UK, and 90.98% in Brazil—while verifying users in less than 50 seconds on average.
Sumsub's  methodology follows FATF recommendations, the international standard for AML/CTF rules and local regulatory requirements (FINMA, FCA, CySEC, MAS, BaFin). As the first regulated compliance-as-a-service provider, Sumsub has a team of legal experts ready to consult on regulatory specifics worldwide.
With over 2,000 clients across the fintech, crypto, transportation, trading and gaming industries, Sumsub partners with the likes of Mercuryo, Bybit, Huobi, Unlimint, DiDi, Poppy and TransferGo.
About TrueNorth
TrueNorth.co is one of the largest and most successful financial services software development companies in the world having built three fintech unicorns from scratch–Upgrade, LendingClub, and Dianrong. The company specializes in building digital solutions, including 45 original enterprises, 120 digital transformations and 40 product revamps. TrueNorth's unique Team Captain client-focused process enables its most senior engineers to navigate and apply the latest technologies to develop and integrate cutting-edge digital solutions for neobanks, payment platforms, lending firms, banks, credit unions, and asset management firms. CEO Alex Gonikman, a veteran software architect, leads a staff of more than 200 employees from the company's headquarters in New York City, development centers across the globe, and strategic offices across the U.S. To learn more, visit truenorth.co.