Global all-in-one verification software company, Sumsub, provides video identification for fintech companies in Germany ensuring full compliance with BaFin's KYC requirements.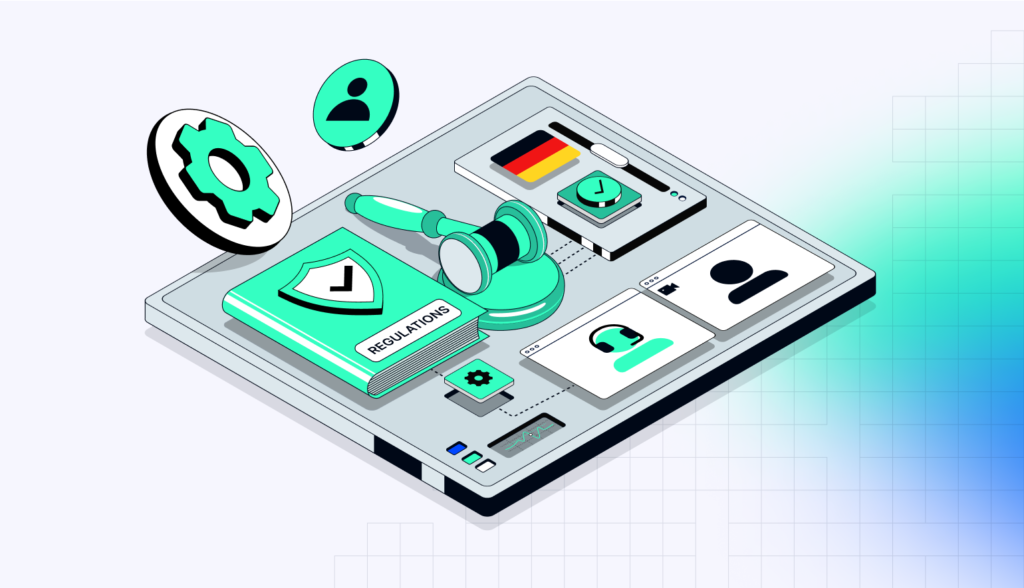 Berlin, September 5, 2022 — Sumsub, a global regtech company that helps businesses stay compliant and fight digital fraud, today announced that its revamped Video Identification solution is compliant with BaFin KYC/AML regulations in Germany.
Now fintech, crypto, trading and gaming businesses located in Germany can onboard customers safely and securely by outsourcing their KYC process, in part or in whole, to Sumsub. Sumsub's in-house trained operators can conduct the interviews (in English or German), and the platform's powerful video-ident effectively fights digital fraud while onboarding honest users with ease.
According to our product analytics, Sumsub's average user onboarding time in Germany (for the standard, ID+Selfie verification flow) is under 61 seconds, with a pass rate of 93.6% across all industries. The average user age is 34, and the majority of users pass KYC from their computer (86.4%) rather than mobile phone (13.6%). As for the operational systems, Android (54%) is slightly more popular than iOS (46%).
Video KYC is a distinctive feature of ID verification in Germany, requiring special attention since BaFin sets strict requirements on how it must be performed. For instance, video chats must be end-to-end encrypted to ensure safety and privacy; mobile phone verification may be performed during the interview only by using TAN (transaction number) verification; all data must be kept for 5+ years. Sumsub offers all these necessary features to help German clients stay fully compliant with regulations.
The video-ident process itself usually takes less than 5 minutes and includes a live interview with an operator, ID document check, and sometimes extra checks such as questionnaires and email or mobile phone verification. Businesses can decide which customer groups are subject to video KYC based on their risk profiles, among other customization opportunities. Moreover, video verification can be performed on any device–desktop or smartphone–thanks to Sumsub's WebSDK and Mobile SDK (mSDK).
"Video identification is a face-to-face customer verification procedure performed online that is aimed at ensuring that the person is alive, acts on their own will, and provides valid documents that actually belong to them. By setting strict rules, BaFin requires supervised businesses to protect themselves from money laundering and terrorist financing, and failing to comply with these regulations may result in fines up to €5 million, license termination, seizure of assets, and even criminal liability. To avoid this, German companies can use the Sumsub platform for video-ident and additional KYC checks, or totally delegate their video KYC and AML compliance challenges to our expert team",

– says Jacob Sever, Co-founder and Chief Compliance Officer of Sumsub.