All-in-one verification platform helps crypto businesses resolve compliance issues and adhere to expanding FATF regulations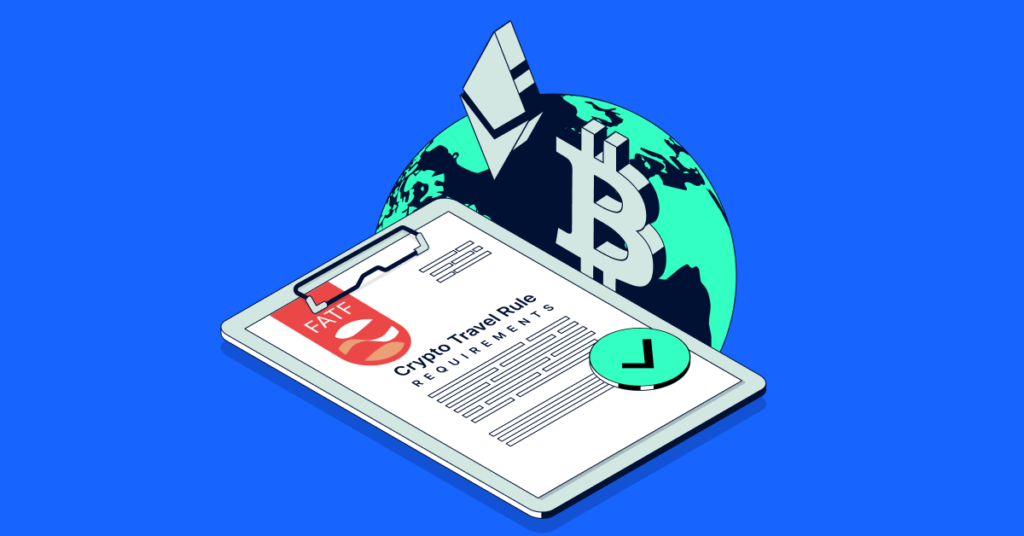 MIAMI — March 2, 2023 — Sumsub, a global tech company that provides customizable KYC, KYB, AML and transaction monitoring solutions, has launched a Travel Rule solution for the crypto industry, offering a full compliance toolkit across the whole customer lifecycle. This includes secure Travel Rule information transfers between virtual asset service providers (VASPs), all the necessary KYC checks, AML screening and verification orchestration according to regulatory specifics and business needs.
With this new solution from Sumsub, crypto platforms can stop worrying about compliance with shifting regulatory requirements and focus entirely on their core business goals and global expansion.
Travel Rule adoption expands globally to combat money laundering
Designed to combat money laundering and terrorism financing, the Travel Rule extends FATF Recommendation 16 on wire transfers to virtual assets (VA) like cryptocurrencies and to Virtual Asset Service Providers (VASPs), so that the senders and recipients of all transfers must exchange identifying information, guarantee its accuracy and convey the data to government if required. In the wake of FTX's demise, Kraken's SEC troubles, and general turbulence across crypto exchanges, governments are moving to tighten regulations and provide clarity to the industry.
According to FATF, 29 of 98 countries have already passed Travel Rule legislation. In Hong Kong, the Travel Rule will impact business in June of this year, where crypto regulation will follow a framework similar to that of traditional finance. India has stated that regulating crypto assets is a priority, and now with its leadership of the IMF, that body has moved to work with the G-20 on crypto regulations. In the UK's money laundering law, Regulation 5 on crypto asset transfers comes into force this September. The EU is rolling out its comprehensive Markets in Crypto Assets (MiCA) regulation, slated for enforcement in 2024. In the Middle East, Dubai has already set forth new crypto regulations covering issuance, exchange services and even crypto advertising. And very recently, Japan announced that crypto transactions would be subject to the Travel Rule by May 2023.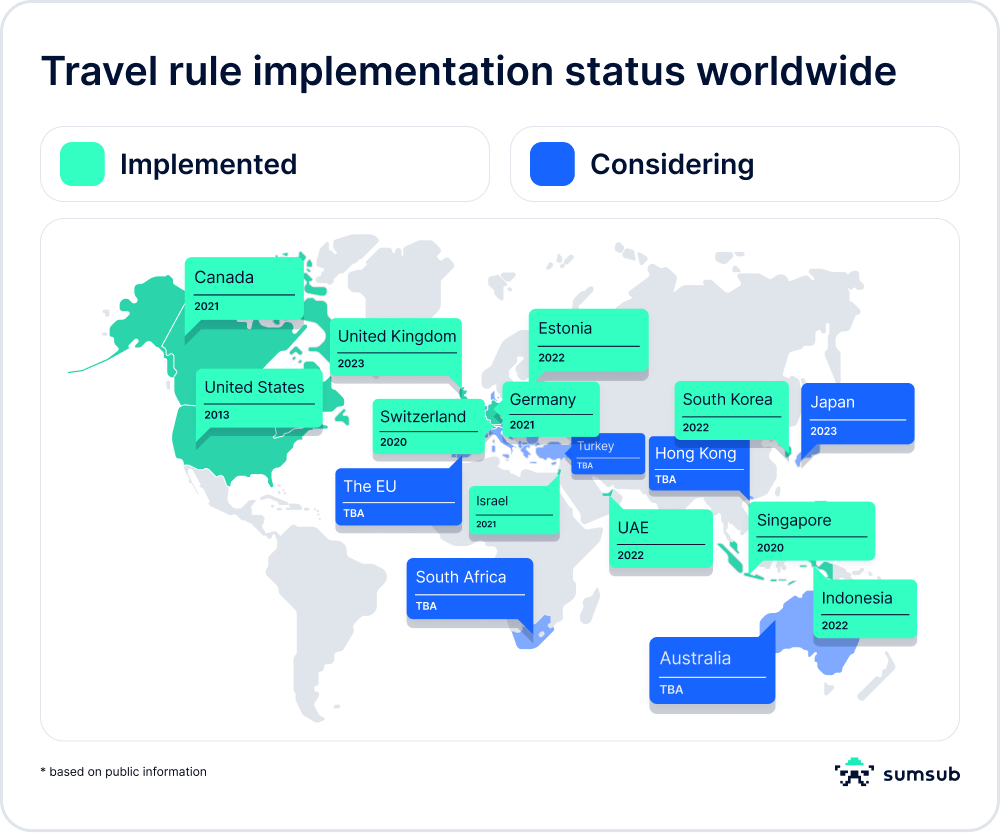 Supporting compliance for the crypto industry
Preparing for compliance is crucial. Consequences of violating regulations include fines, reputational damage and license revocation. For instance, in August, New York's financial regulator fined Robinhood Crypto $30 million for significant failings in its AML compliance program, inadequate transaction monitoring and for not meeting state cybersecurity guidelines.
Working with over 500 crypto clients since 2015, Sumsub has the expertise and experience to support compliance infrastructure for the crypto community. The company's crypto-focused Travel Rule Solution enables secure data exchange between platforms, creating a compliant ecosystem for crypto providers.
Sumsub's Travel Rule solution detects VASP-to-VASP payments, defines the receiving VASP, identifies account type, and checks for sanction violations, PEPs and adverse media. As a result, Sumsub enables crypto platforms to securely exchange and store customer information (including names, wallet addresses, etc.), making sure such data is not shared with third parties.
The Travel Rule solution can be easily combined with Sumsub's advanced transaction monitoring (KYT) solution. KYT, or know-your-transaction, is a flexible set of procedures that usually includes analyzing sender/receiver profiles, calculating risk scores and cross-checking KYC and transaction data. In this way, all parties of crypto transactions are protected from fraud thanks to fast and effective transaction monitoring aimed at detecting suspicious activity.
Sumsub's crypto customers can control the risk management process by setting rules to automate transactions with counterparties based on internal risk criteria. As a result, they can perform risk analysis based on up-to-date information and easily generate reports, if needed.
"With the Travel Rule solution Sumsub offers, crypto companies can enjoy high pass rates, stay ahead of regulatory changes, and be fully prepared for new compliance standards. The crypto compliance toolkit from Sumsub allows industry players to safely develop and expand globally, attracting more users and maintaining trustful relationships with clients, partners and regulators. Our primary focus is to create a reliable ecosystem for the crypto community that ensures compliance with legal requirements and protects both businesses and individuals from fraud and money laundering along the way. Introducing the Travel Rule solution is an important step toward this ambitious goal,"

explains Vyacheslav Zholudev, co-founder and CTO at Sumsub.
Addressing the Travel Rule requires time and joint effort from all parties in the crypto industry, including platforms, regulators and users. Seeing this need, Sumsub now offers a one-stop, comprehensive crypto compliance solution.For more information, please go to https://sumsub.com/travel-rule.