Sumsub Announces Updates to Identity Verification Solution on Salesforce AppExchange, the World's Leading Enterprise Cloud Marketplace
Sumsub's customers can now benefit from fast and efficient identity verification coupled with strong anti-fraud protection.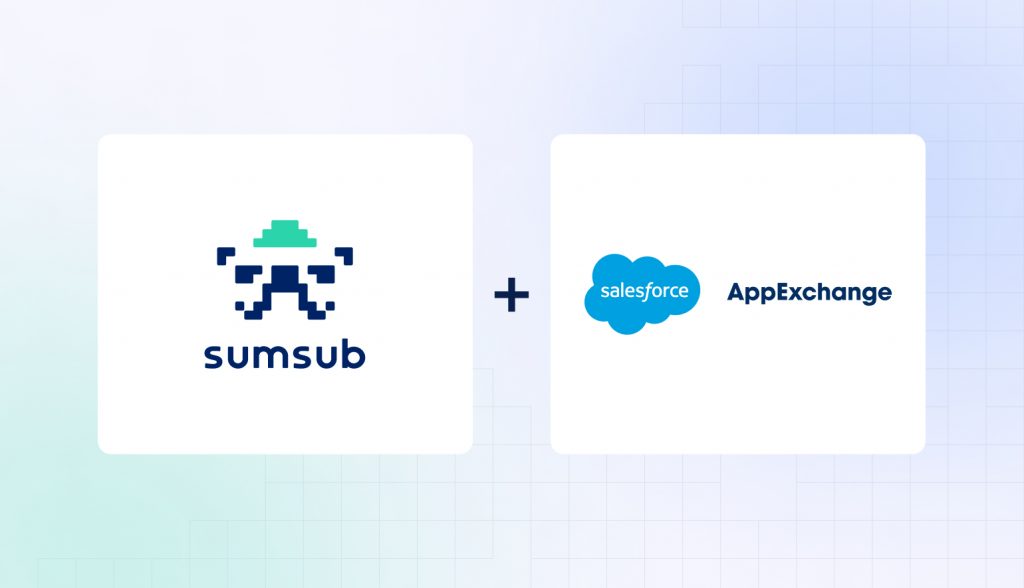 London, July 12, 2022 — Sumsub today announced it has launched its identity verification solution on Salesforce AppExchange, empowering customers to smoothly onboard and verify their global users. Founded in 2015, Sumsub provides an all-in-one technical and legal toolkit to cover KYC/KYB and AML needs. It offers a powerful platform for converting more customers, speeding up verification, reducing costs and fighting digital fraud.Built on the Salesforce platform, Sumsub is currently available on AppExchange at https://appexchange.salesforce.com/appxListingDetail?listingId=a0N3u00000Pt7yQEAR
Sumsub's Identity Verification Solution
Thanks to this integration, clients can now effectively onboard their users with Sumsub's digital verification solution. Different types of checks are available including those for ID documents, liveness, video identification, KYB, proof of address, etc. All of this can be set to the business' specific needs.
We see this new offering as an opportunity to offer our global identity verification solution to an even wider audience of businesses around the world. Sumsub is happy to help more companies create verification flows tailored to their business demands, onboard users and stay protected from fraudsters along the way,

– said Peter Sever, Co-founder and Chief Strategy Officer of Sumsub.
Sumsub is a welcome addition to AppExchange, as they power digital transformation for customers by delivering robust identity verification and anti-fraud. AppExchange is constantly evolving to connect customers with the right apps and experts for their business needs.

– said Woodson Martin, GM of Salesforce AppExchange.
About Salesforce AppExchange
Salesforce AppExchange, the world's leading enterprise cloud marketplace, empowers companies, developers and entrepreneurs to build, market and grow in entirely new ways. With more than 7,000 listings, 10 million customer installs and 117,000 peer reviews, AppExchange connects customers of all sizes and across industries to ready-to-install or customizable apps and Salesforce-certified consultants to solve any business challenge.
Additional Resources
Salesforce, AppExchange and others are among the trademarks of salesforce.com, inc.