A software engineering company has joined forces with an all-in-one verification platform to enhance the fintech sector with advanced KYC/AML solutions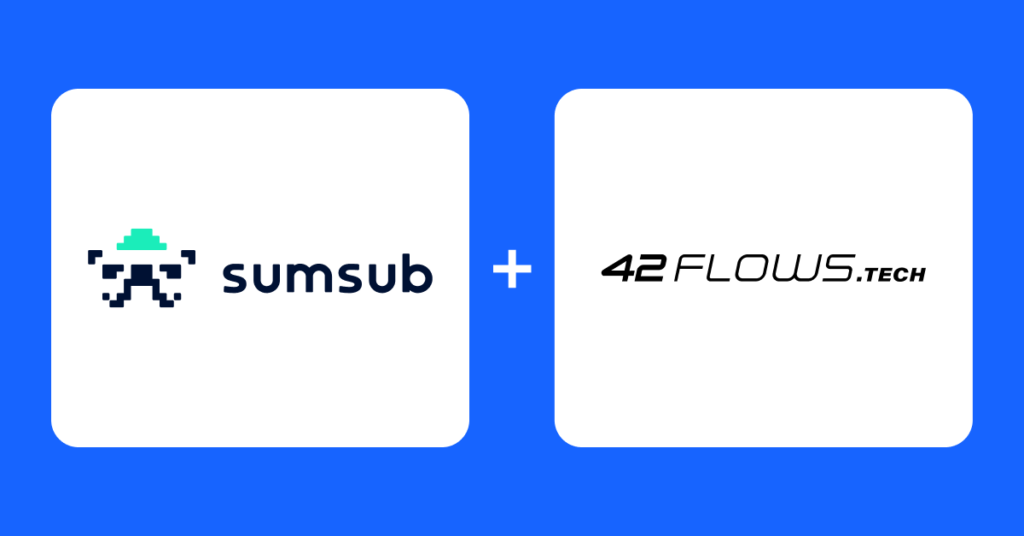 London – 23 March, 2023 – 42Flows.Tech, a software engineering company, and Sumsub, an all-in-one verification platform, today announced their strategic partnership to provide  trustworthy, end-to-end solutions for identity verification, transaction monitoring and AML screening in fintech, e-commerce, and many other industries.
42Flows.Tech offers rapid integration of KYC systems to their clients' and partners' systems. As a result, 42Flows.Tech recommends and provides best practices for integrating Sumsub's solution into core banking and other fintech developments.
Max Popov, COO of 42Flows.Tech, said of the partnership: "We are delighted to increase our engagement with the latest verification technologies and commitment to digital security through becoming a strategic partner of Sumsub. I believe that our cooperation will help the fintech sector grow, develop, and succeed, delivering value to businesses and consumers alike".
Andrew Sever, co-founder and CEO of Sumsub, commented: "We are glad to work with 42Flows.Tech for the benefit of their customers and the wider fintech community. Sumsub's advanced KYC, KYB, transaction monitoring and AML solutions are the best fit for a fast-growing software engineering company aimed at global expansion. We are looking forward to launching new projects together with 42Flows.Tech."
About Sumsub
Sumsub is an all-in-one verification platform that secures every step of the customer journey. With Sumsub's customizable KYC, KYB, KYT, and AML solutions, you can orchestrate your verification process, welcome more customers worldwide, speed up onboarding, reduce costs and steer clear of digital fraud.
Sumsub achieves the highest conversion rates in the industry—91.64% in the US, 95.86% in the UK, and 90.98% in Brazil—while verifying users in less than 50 seconds on average.
Sumsub's methodology follows FATF recommendations, the international standard for AML/CTF rules and local regulatory requirements (FINMA, FCA, CySEC, MAS, BaFin). As the first regulated compliance-as-a-service provider, Sumsub has a team of compliance experts ready to consult on regulatory specifics worldwide.
With over 2,000 clients across the fintech, crypto, transportation, trading and gaming industries, Sumsub partners with the likes of Mercuryo, Bybit, Huobi, Unlimint, DiDi, Poppy and TransferGo.
About 42Flows.Tech
42Flows.Tech is a middleware development firm that works with banks, fintechs, and early-stage startups. Based on 15 years of banking experience, we use low-code and open-source tools for rapid integrations. This enables our clients to remain at the forefront of the industry and continue to innovate in order to provide more value to the end customers. This is why we support the "Future, Fintech, Fast" concept. This motto emphasizes our organization's commitment to being forward-thinking and innovative in the world of finance and technology, with a focus on speed and agility. It also highlights our commitment to innovation, cutting-edge financial technology, and quick, efficient service.